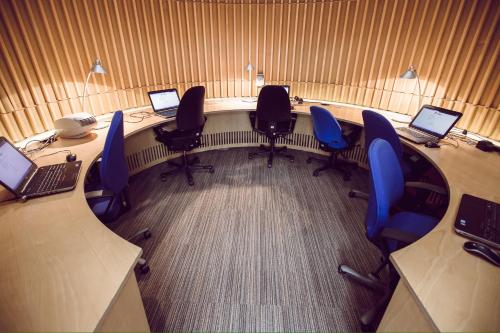 Why choose the de Vere East Midlands Conference Centre?

The De Vere East Midlands Conference Centre is a unique venue with ultimate flexibility. As a purpose built venue designed for adaptability there are no limits to the size or combination of events we host. With excellent transport links by road, rail and air, the venue benefits from a great central location.
Why choose a Nottingham Jubilee Hotel & conferences?

A Nottingham conference and meeting space with lakeside views. Set within 65 acres of lakeside grounds, close to Nottingham city centre, The Jubilee hotel & conferences offers an innovative setting for events, along with all the comforts of a modern hotel.
Why choose de Vere Orchard Hotel?

With a fresh, modern design; De Vere Orchard Hotel has been built with productivity in mind. Here natural daylight and contemporary décor create an energising space for meetings, training, and special events. With room for up to 20 guests, our executive lounge provides an exclusive space with its own outdoor terrace.

East Midlands Conference Centre

Following a multi-million pound refurbishment, East Midlands Conference Centre offers state-of-the-art meetings and events spaces, banqueting suites and magnificent, contemporary public spaces.

Give us a call today to discuss your needs

Set across a choice of 3 unique locations, Nottingham Conferences offers meeting space in both traditional and ultra-modern teaching buildings with state-of-the-art AV, ensuring a bespoke package can be created to suit your needs.